Optimism on UK-China Relations at 5th China Economic Symposium
July, 21, 2018
As Britain gets ready to exit the EU, and President Trump reels back global cooperation, the Ambassador of China to the UK, H.E. Liu Xiaoming, says, "China has honored its commitment to the WTO and supports free trade and an open economy." He spoke at the Cheung Kong Graduate School of Business' 5th China Economic Symposium in London on 19 July 2018 where top professors as well as business leaders and policymakers remained positive on Sino-European trade as they highlighted opportunities that have arisen from the US-China trade friction, Brexit and the Belt and Road Initiative.
Co-hosted by CKGSB and the Institute of Directors (IoD), the event saw close to 300 distinguished guests and high-profile speakers including Ralf Speth, CEO of Jaguar Land Rover, Tatiana Krylova, Head of the Enterprise Branch at the United Nations Conference on Trade and Development, and Xiang Bing, the Founding Dean of Cheung Kong Graduate School of Business.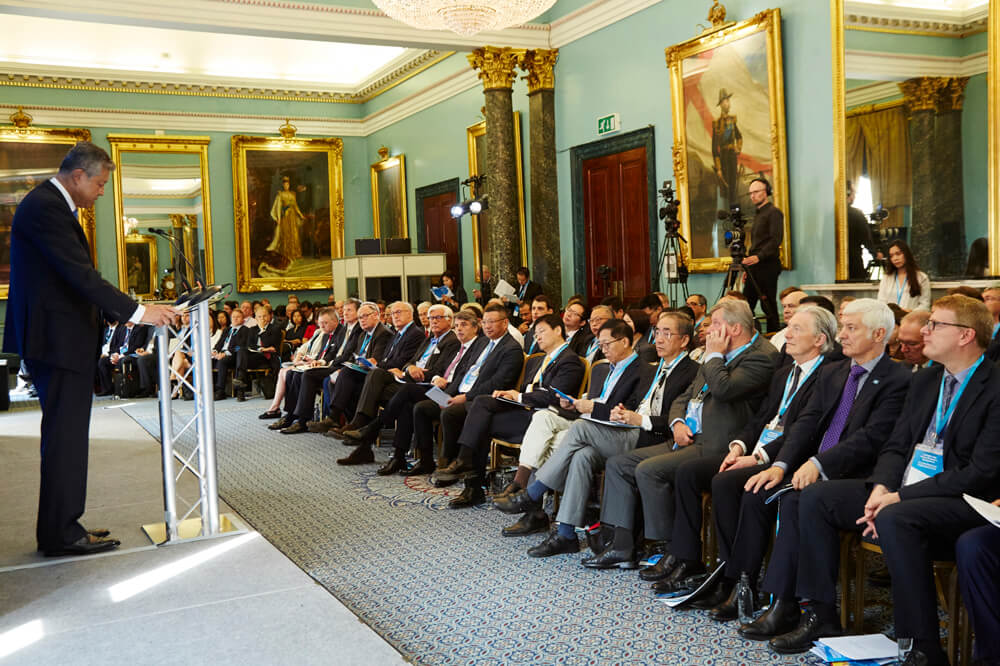 CKGSB Assistant Dean Ji Bo gave welcome remarks and set the context saying that China has "entered a "new normal" phase, focusing more on growth quality than on quantity." His remarks were followed by opening remarks from the Director General of the Institute of Directors, Stephen Martin, who said that "Even with Brexit, China will undoubtedly be an important partner for the UK."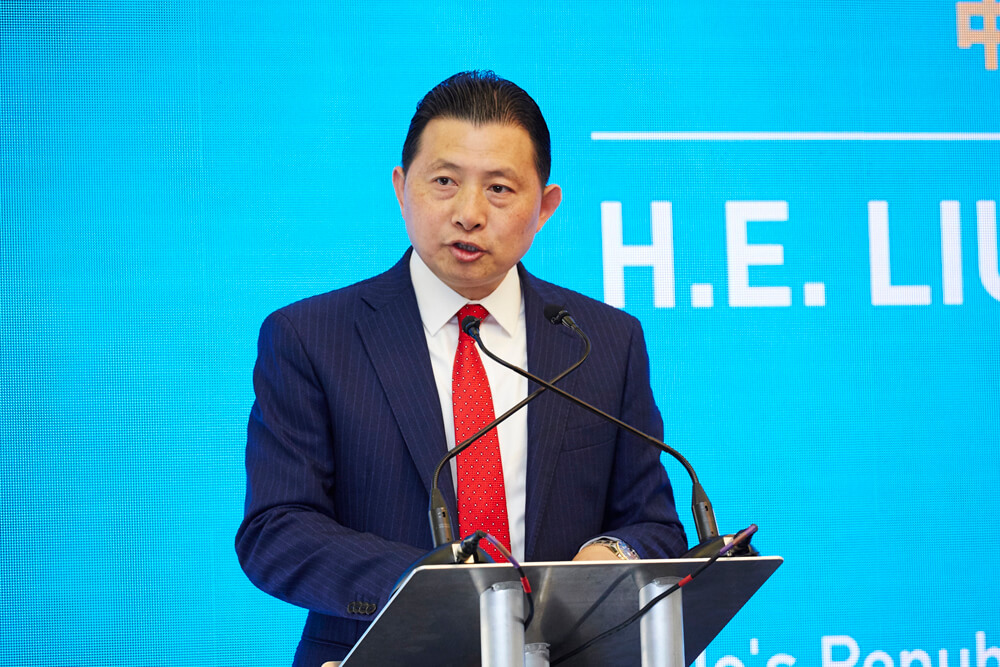 THE CONTEXT- UK-CHINA RELATIONS IN A NEW GOLDEN ERA
Championing globalization and China's role in becoming a major stabilizer and powerhouse for global growth, H.E. Liu Xiaoming, Chinese Ambassador to the UK addressed China-UK relations saying it is an example for bilateral relations in the world. Ambassador Liu also said that globalization "is an irreversible trend. It's a greater integration with the world. Now China is shifting from high-speed growth to high-quality growth. China will create a more investment-friendly environment." He further emphasized, "To ensure the development of China-UK relations, we need to adapt to changes unseen in the past, oppose unilateralism and protectionism."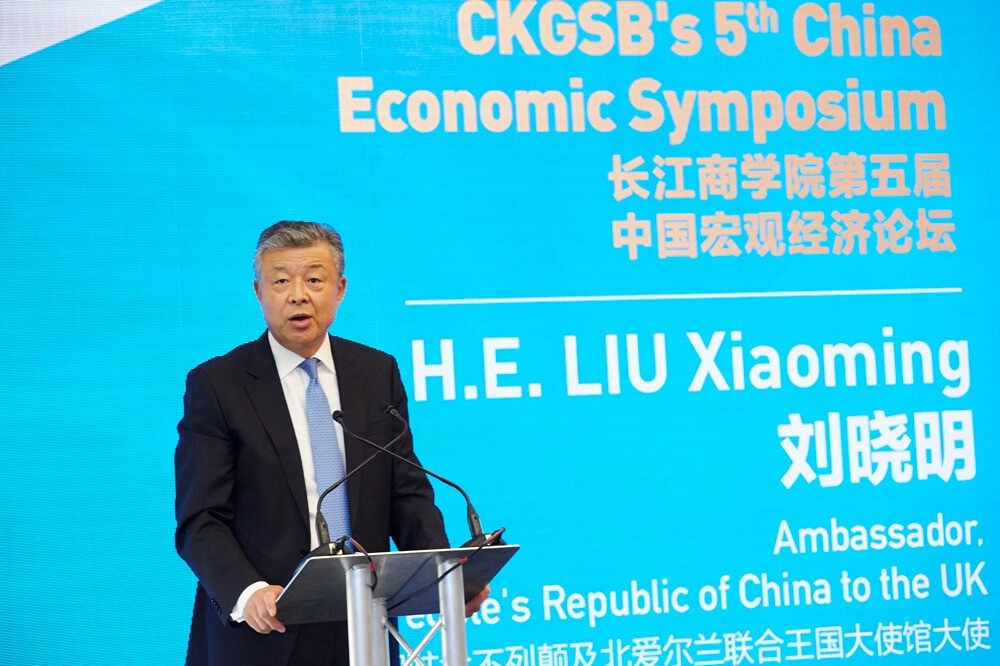 As a supporter of UK-China relations, Sir Douglas Flint, UK Government's Special Envoy to the Belt and Road Initiative said, "The scale of the Belt and Road Initiative required the expertise and skills of all countries along the Belt and Road."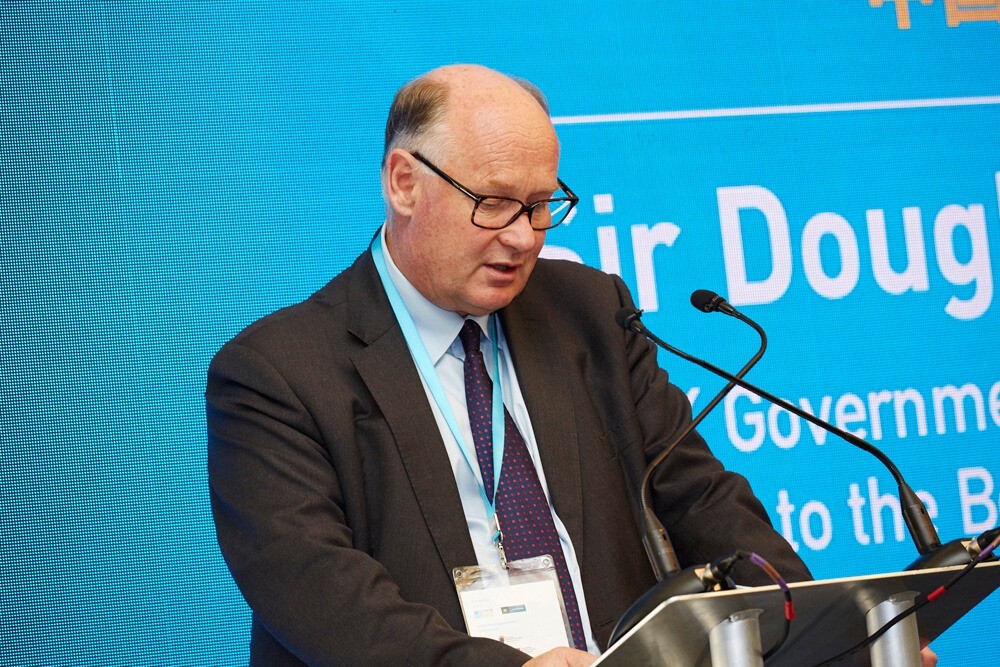 Echoing the opportunities posed by the new international order, Founding Dean of CKGSB, Xiang Bing, said in his keynote speech titled, "US-China Trade Friction and Its Potential Global Implications," he said that "The East has been taking a long nap. It's time we woke up and take up more responsibility." He pointed out that the "Confucius Economic Block" – composed of 10 economies dominated by Confucius culture – creates $19 trillion USD in combined GDP in 2016, which is bigger than the US and EU.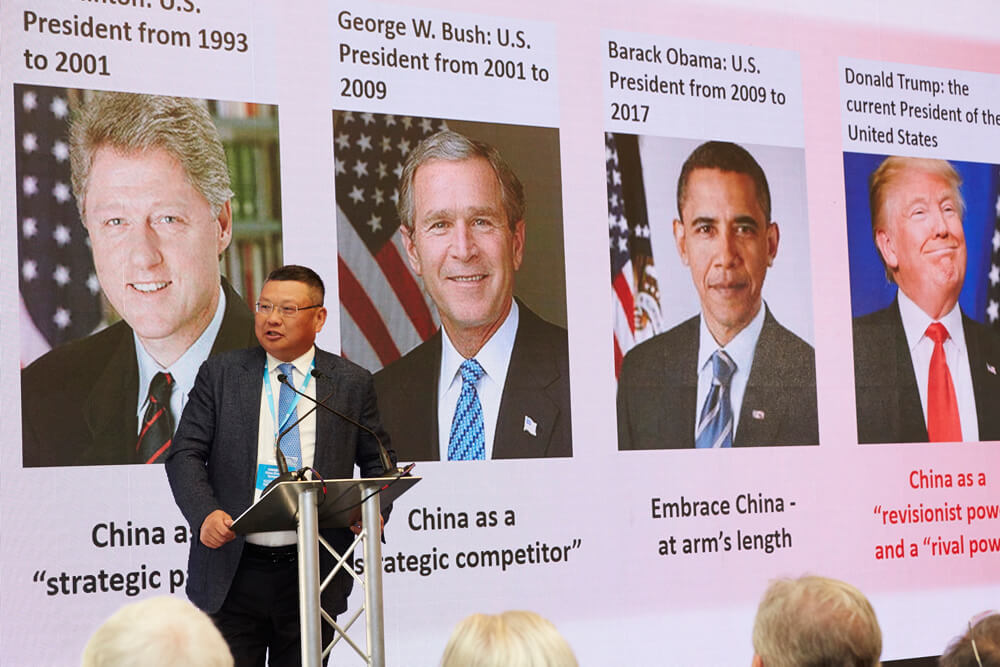 Next, Sir Victor Blank, Senior Advisor of TPG Capital, Chairman of CKGSB European Advisory Board and Former Chairman of Lloyds TSB gave a speech on "UK Economic Outlook: Prospects for Business", by saying that UK post Brexit doesn't have to be all pessimistic. "Our employment rate is high, inflation under control. Interest rates low. One of the main drivers of the UK economy is our education system and its record of innovation."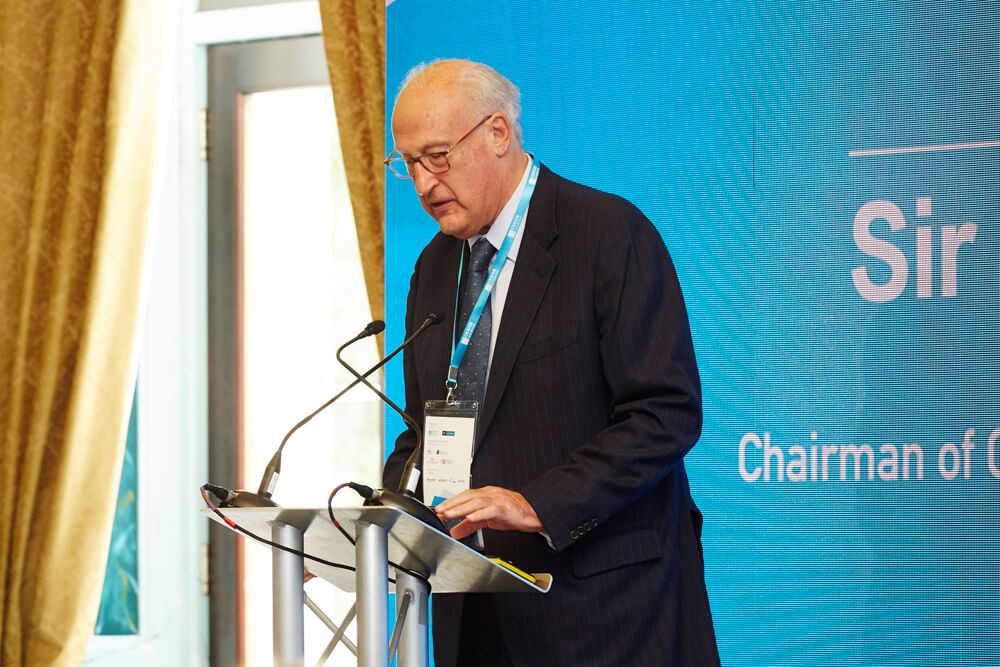 THE TRENDS – CHINA'S ECONOMIC OUTLOOK
Speakers also addressed some of the challenges to economic growth. Professor of Economics at CKGSB Li Wei, who puts out a highly-regarded Business Conditions Index, a project to gauge the business sentiment of executive about the macro-economic environment in China, presented his studies on China's monetary policy and called for greater structural reform to aid the growth of private businesses. In his speech titled, "An Alternative Look at China's Growth Cycle," he says, "Deleveraging will reduce the size of shadow banking but shadow banking is where many private companies get financing. With deleveraging, private companies may feel the financial squeeze."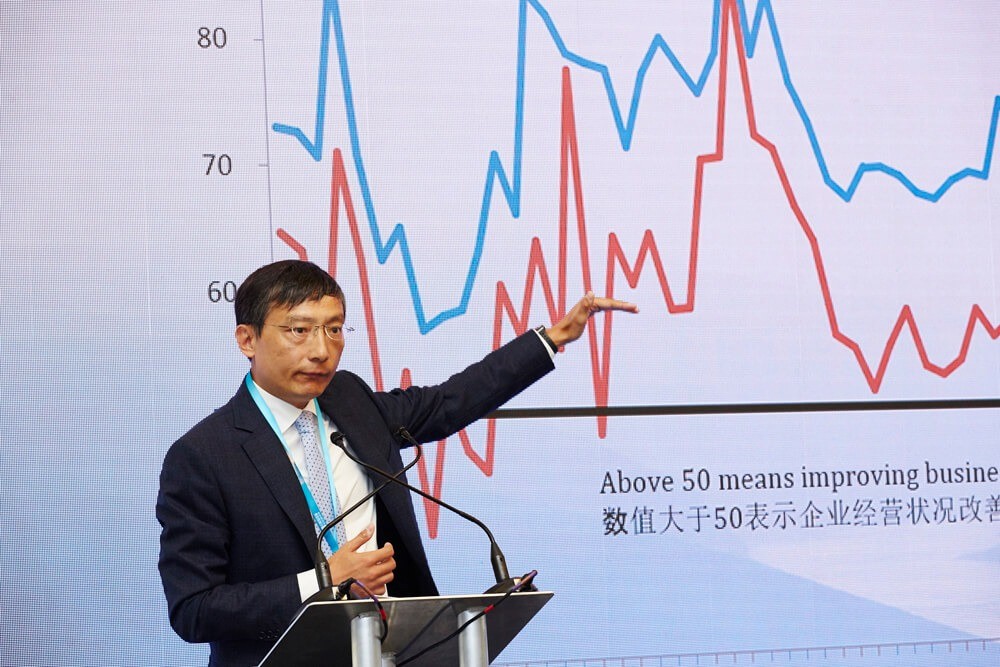 In an experts' dialogue on China's 2018 Q4 outlook with Vincent Ni, Senior Journalist at the BBC, speakers debated the challenges that Brexit and the US-China trade friction will bring. Professor Li Wei said, "People don't just worry about Brexit, but the trend that Brexit brings."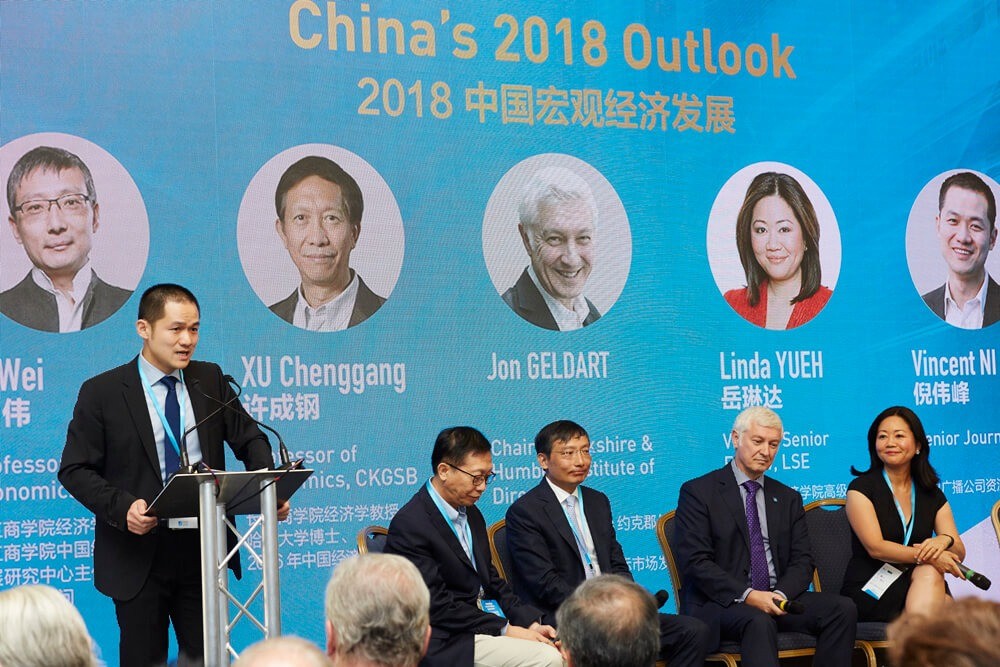 The dialogue was followed by a presentation from Professor of Economics at CKGSB, Xu Chenggang, who presented "An Insiders' Look: The Chinese Economy – Its Potential and Challenges". He stated that, "Connectivity is the bottleneck of AI. China is the largest in terms of AI but in terms of per capita stats, China falls behind Portugal." If China were to reach its "China 2025" goal, he suggested allocating resources better so that technological advances are not hindered.
BUSINESS PRACTICES—OPPORTUNITIES AND STRATEGIES TO WIN IN CHINA
Next, Dr. Ralph Speth, CEO of Jaguar Land Rover and CKGSB's European Advisory Board Member, presented "Best Practices to Succeed in the Chinese Market". Dr. Speth shared with audience members his business practices in China and Jaguar Land Rover's commitment to industrial development in the Xiongan economic zone. He said, "The Future is less about competition but more about collaboration."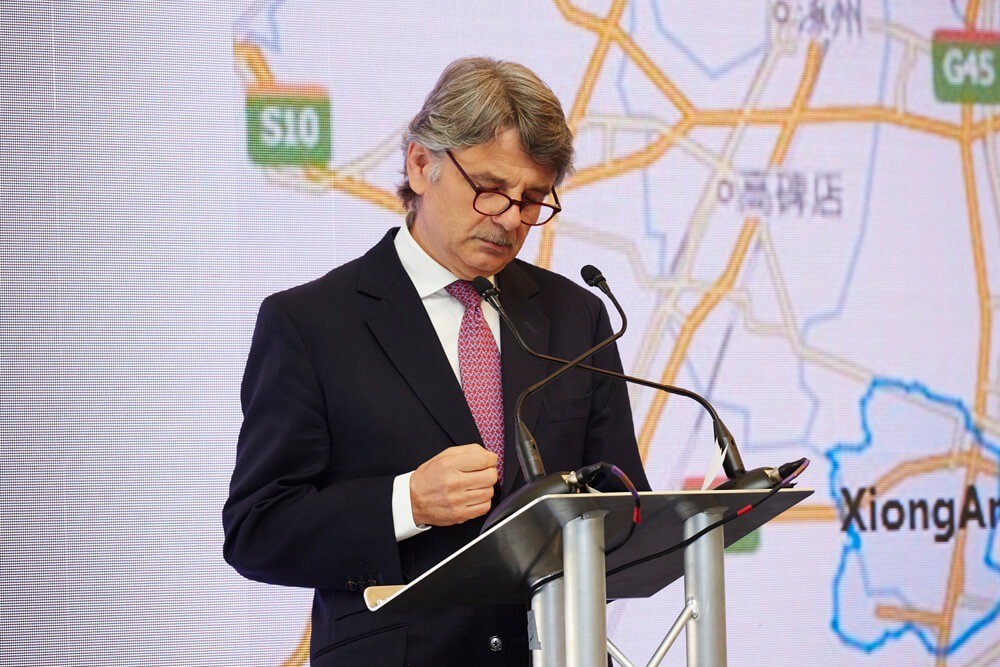 The final panel discussion titled, "CEO Dialogue: China's Innovation Trends and Investment Opportunities," was moderated by Jonathan Moules from the Financial Times. In this panel experts in their industries gave their view on how to foster greater business ties and what they saw were the challenges to doing business in the UK and China. CEO of Bank of China in the UK, Sun Yu said, "Make the market more predicatable and transparent. It's every business' concern when entering a new market."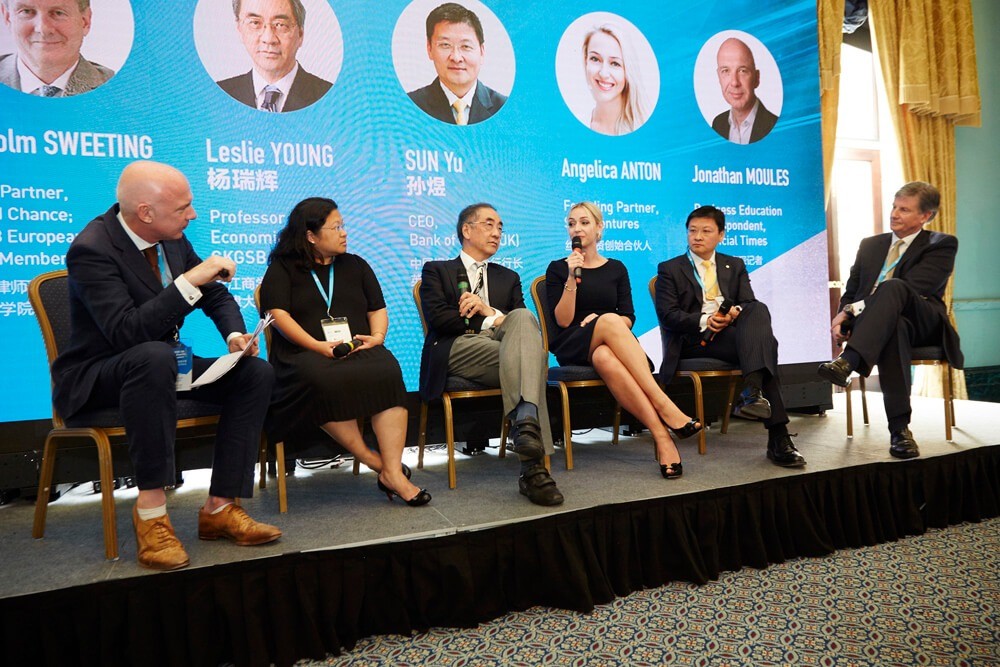 Before David Stringer-Lamarre, Chairman of Institute of Directors London Region, gave his closing remarks, Tatiana Krylova, Head of the Enterprise Branch at the United Nations Conference on Trade and Development (UNCTAD) announced a partnership agreement with CKGSB and said, "UNCATD looks forward to working with CKGSB and building entrepreneurial networks."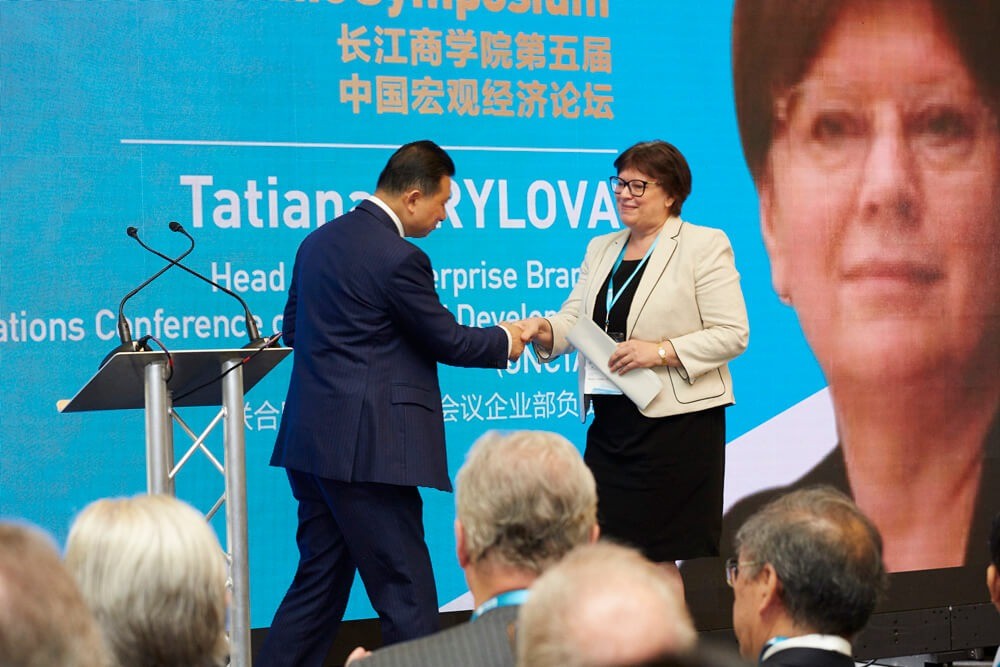 CKGSB's China Economic Symposium is one of the school's flagship events, which has been held since 2015. Click the links below to know more of our previous events!
CKGSB's 4th China Economic Symposium in 2017